Branded Customized Promotional Beach Umbrella for The Nigerian market

Beach Umbrella has been around for a long time but Nigerian consumers started taking notice when MTN and Econet flooded Nigeria and "painted" Nigeria yellow and red with these umbrellas. Most people thought their only use was as a shed for their call centers but their real purpose was advertisement, to put their brands in your face and embed it in your subconsciousness. They became household names and ever since then many corporate organizations has keyed in on this powerful promotional tool. Today no serious organisation sets up in Nigeria without having their Umbrellas provide shed for the many retailers in the Nigerian market.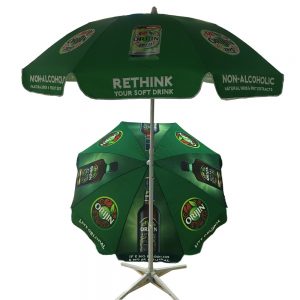 Marel media Ltd is a Lagos Nigeria based company that manufactures customized branded beach Umbrellas for promotional purposes.
We make big umbrellas and Parasols of different sizes and fabrics, branded with your logo to suit your business promotional needs.
Although we recommend manufacturing from the scratch to give you a stronger and longer lasting umbrella, we can also brand the lesser quality already made ones sold in the market.
If you are looking for branded customized promotional big Umbrellas please give us a call.
www.marelmedia.com
+2348166545965
+2348037852290