Display Banners: Getting The Right Type Of Display Banner To Suit Your Business
Perhaps like many business owners you have been stuck on the type of banner you need to communicate your brand, event, occasion etc or you have gotten one but somehow its not getting you the result you anticipated. Banner displays are wonderful business tools but knowing how, when and which banner graphics to use could make a huge difference in the result you achieve. There are many banners and your dilemma is now which to use? well like Richard Quest would say, "we'd quieten the noise and help you make sense of it all"(hope I got the quote right, lol!)
Before we delve into the types of displays and models that will work for your business, let us look at the 3 basic questions you should answer before deciding on which to go for.
1. What is my budget for the a banner display?
2. Is the advert, event, occasion taking place outdoors or indoors?
3. What type of space is available for this display?The answer to these 3 questions will help you in your search for the ideal stand, graphics and accessories.Types of banner displays and their purposes.
Types Of Displays Banners and their purposes.
Sometimes referred to as backdrop display stand. If you want to create extra impact, a large display is the perfect choice. With Expand pop-up displays, you can get a large image set up quickly and easily in ten minutes or less.
Large display that creates extra impact
Despite its size, very easy and quick to set up
Easy to transport (comes in transport box or bag with wheels)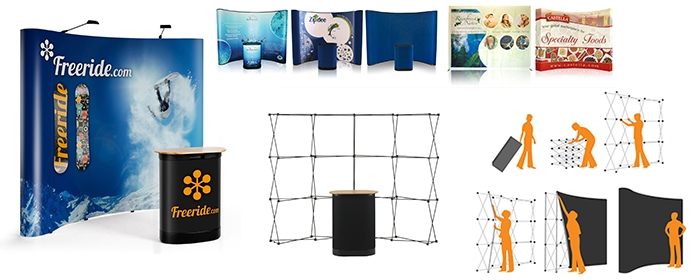 3. Tabletop Display Stand
This is a collapsible small metal frame work which can be packed in seconds by folding the panels up like an accordion or retracting the frame and placing in a lightweight portable carry bag or case, with graphic panels that attach to the frame work via mechanical fasteners, magnets, or Velcro. These displays are typically very easy to set up, and require little to no on-site support labor. As the name implies, they are designed to be set on top of a table, one usually supplied by the trade show contractor. As with pipe and drape, this table is often provided as part of the price of renting the exhibit space, though this may not always be the case.
This table top stand ranges from the very simple banner stand style to much more elaborate expression displays. 

4. Modular exhibition display stand
 These exhibition display stands can be described as a hybrid between a pop-up display and a panel & frame system. Whereas a pop-up is typically a small background property, a modular display is an entire space. We use a standardized basic structure, whether this be a metal frame work, or thin, lightweight panel construction, which is then configured within the confines of the structure limitations as required by the exhibition organizers.
The components are often made from very lightweight materials, and transported in small traveling cases (often injection molded plastic). It is the perfect solution for trade shows, events and exhibitions.
At Marel Media Ltd, Modular exhibition stands can be branded and customized to meet your individual and corporate branding needs. Our services cover Nigeria and beyond.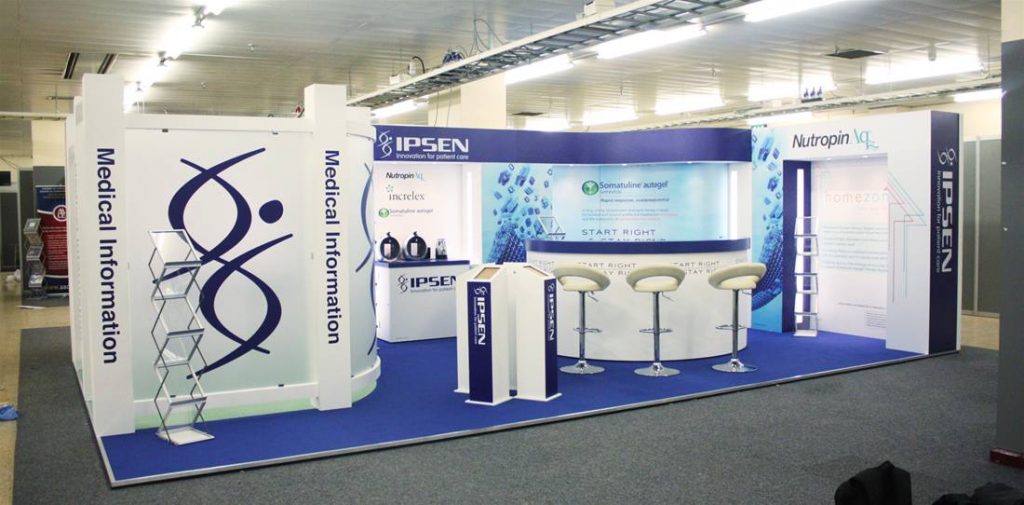 Note : For those who called asking if these displays can be done here in Nigeria, the answer is yes, we are in the business of production of display banners and other brand display stands. We can do these and more.
For a quote or further enquiries contact :
Phone:08166545965, 08037852290
Email : marelmedialtd@gmail.com , info@marelmedia.com
Website: www.marelmedia.com